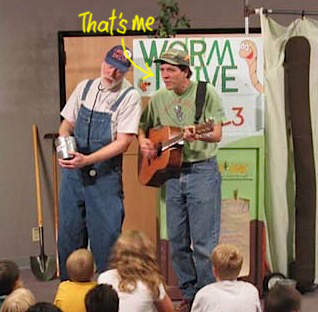 Hi There!
I'm Farmer Ron. I am the creator of Worm Drive The Musical. Worm Drive The Musical is a live, educational, interactive, entertaining performance, all about the mighty Earthworm. If you are interested in an exciting live performance at your school, library, or special event, please email Farmer Ron. For more information about the children's live Earthworm show go to the "Worm Show for Kids" page.
If you are interested in the earthworm, in our environment, in soil ecology, in soil conservation, or organically grown foods and their importance to our health and that of our soil, Worm Drive is for you! If you like gardening, acoustic music, or an imaginative story...come on in!
AN AGRICULTURAL, EDUCATIONAL, MUSICAL MASTERPIECE FOR AGES 7 AND ABOVE
From January 2003 to December 2013, over thirty-­one thousand five hundred 
children have enjoyed Worm Drive performances. Worm Drive performed over 
three hundred and eighty-four shows at schools, libraries, festivals, the Phoenix 
Zoo, and many other events.

©2014 All Rights Reserved. Unauthorized duplication is a violation of applicable law.